Hi my sweet friends!
Here I am again to bring you another Thrift Store Challenge! I teamed up with a group of talented ladies with one purpose, turn any thrift store, second hand or free find into something worth as home decor.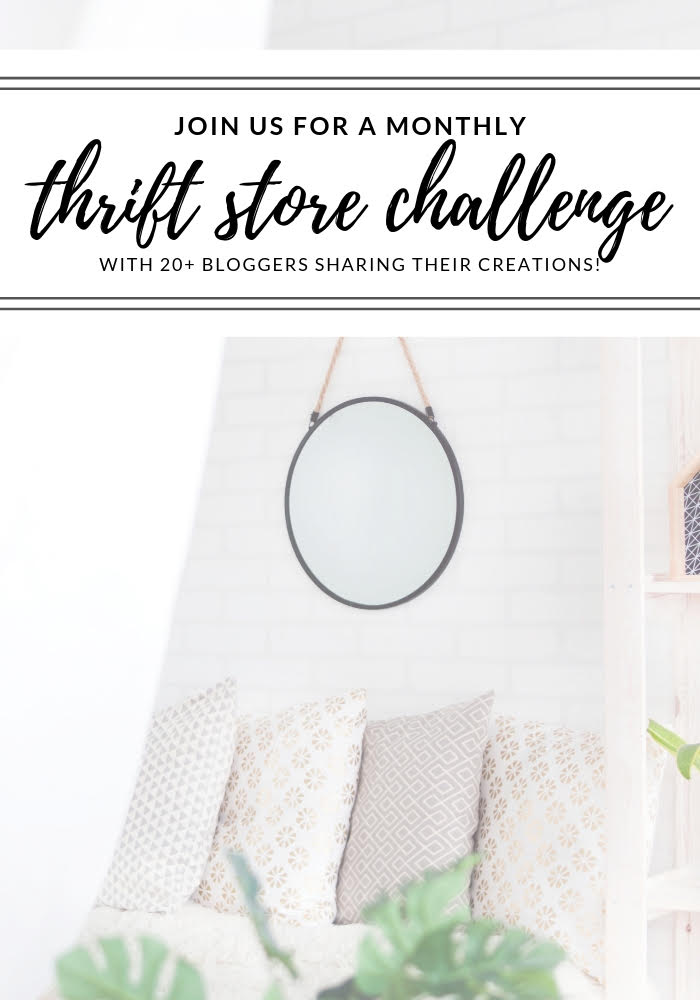 The Rules:
Upcycle an item(s) from a thrift store, resale store, or garage sale into a new piece of decor.
There's no monthly theme.
There's no budget to stick to.
Meet the Hosts
Angela | Simply Beautiful By Angela – Jenny | Cookies Coffee and Crafts – Heather | Glitter On A Dime – Amanda | Domestically Creative – Denise | My Thrifty House – Molly | Just a Little Creativity – Angie | Flippin Fanchers – Victoria | Dazzle While Frazzled – Debra | Shoppe No 5 – Marie | The Inspiration Vault – Deborah | Salvage Sister & Mister – Pili | My Sweet Things – Carmen | Living Letter Home – Habiba | Craftify My Love – Emy | Semigloss Design – Meredith | Southbound Blog
Make sure you follow our board on Pinterest for more upcycled decor inspiration!
I am a lucky person, when I don't find stuff myself I have friends who do it for me. I will include in this post some affiliate links for your convenience, you can check the disclosure here.
A friend of us phoned my hubby to tell him that she knew a guy who was getting rid of a wooden bar counter. Ummm something made of wood and free? Yes please!
So there we went to see it and to measure it because he told us it was huge. And he was right! It was humongous and it means we don't have a place for it at home right now, but behind that beast, covered in junk I saw some pretty wood showing.
I asked him what it was and if I could take it, the answer was yes. Yay! When we moved everything to see it better I realized it was a fireplace, a gorgeous fireplace that sat under the elements for quite a long time.
It looked like this.
It had great bones but was in need of a facelift. A bit moldy on the base and some paint chipping on the rest but I love that so I wasn't goint to paint it, just get rid of the mold.
It also had some stuff inside that I had no idea what it was. Also I doubted it was used as a "proper" fireplace with logs and fire because it didn't have a chimney damper for the smoke.
Those things inside were rusty and burned so they had been in contact with fire for sure, we had a mystery there. I asked some friends and one of them suggested that it could have been a bioethanol fireplace. Never in my life I had heard that so I made some research and it made sense.
I unscrewed the metal thing, got rid of the rusty part and used some black spray paint to paint it. For the body of the wooden fireplace I just did some sanding and touch up paint and it was ready!
I am not going to use it with fire so I preferred to keep it nice and clean, without the front part so I could use it to display things in it.
I added some wax on the top to protect it and it gave a nice and soft finish.
Love how chippy and old it looks.
I will use it on my bedroom but we are still working on it, so I did all the pictures on my entryway lol. I love that wallpaper, you can read how to wallpaper walls easily if you are curious and want to see how ugly it looked before 😉
Do those candle holders look familiar too? Yes, they are made of bits and pieces but you will surprised which ones. You can read how to make candle holders and find out.
A closer look to that soft top.
I can just say I am in love with my old wooden fireplace so much!
Of course I thanked our friend and the guy who gave it to me, and when he saw the pictures he said 'wow'. I know what he meant.
Now it's easy to clean inside. Does it happen to you that when you do a DIY project you thing about cleaning? I love to enjoy beautiful things around me but I don't like to spend a lot of time with cleaning the house so I do.
These books are the easiest to make. Just wrap a sheet of paper around and old book, use an stencil with numbers and a pretty lace and you are done.
You can also repurpose a glass jar. I have many more ideas on this specific Pinterest board.
I love hydrangeas, even the fake ones… I admit I have a black thumb with plants.
Sorry for the amount of pictures but I can't get enough, I wish you could see it in real life!
Last one, pinky promise!
I hope you like my now decorative wooden fireplace as much as I do, and share it if you did.
Thanks so much for stopping by!
And now for more thrifty goodness!
Check out what my fellow upcyclers created below!