Hey friends!
We are experimenting a huge heat wave here and I really don't feel like working on the projects I've started. The workshop is too hot right now and the girls are on their summer break so I thought the best thing could be to go to the beach or pool with them and from there to plan the next makeover of our house.
You might remember I shared our entryway makeover, the kitchen makeover and next week I will share our staircase makeover.
In fact the kitchen was a half kitchen makeover, so these days trying to stay cool gave me time to think about other things we need there and I am going to share some tips with you too.
Maximising Space in Tiny Kitchens
Having a small kitchen can be a nightmare. It seems like you never have enough storage for all your kitchenware, and it's tiring having to cook a meal while trying not to topple anything over. Fret not, because there are many hidden tips and tricks to help homeowners with tiny kitchens maximise their space. Below, I'll discuss the most essential tips to help you make the most of your kitchen space, no matter the size.
Using empty wall space
The kitchen deems open wall spaces as "the not-so-hidden gem of kitchen storage". While it may not be the most obvious storage spot, empty wall spaces have a lot of potential when it comes to maximising space. You can use the space to hang kitchen pegboards, shelves, or even a fold down table. Magnetic knife strips are another helpful tool that can be placed on an empty wall, since you can hang not just knives but pot lids and other kitchen tools as well.
Being smart with storage
Needless to say, homeowners with small kitchens need to be smart with their storage. Having cabinets with chunky doors, for example, can end up making a room feel much smaller than it is. Some people opt to take out the cabinet doors so the storage acts like a shelf instead. Don't think of throwing away the cabinet door however, because it can be repurposed as wooden DIY wall hangers instead.
This goes to show that we shouldn't restrict ourselves to traditional wooden cabinets as storage space. There are different types of storage units that can be added to the kitchen to reduce clutter. What is apparent from the variety of kitchen units listed on Screwfix is how different types of storage can be adapted to fit small spaces.
Corner wall shelves are great in helping to maximise space, as well as tall thin vertical shelves, which allow you to take advantage of the room's height. The right storage units for you will depend on your available kitchen space.
Store things outside the fridge
In Buzzfeed's article 'Lifehacks for Your Tiny Kitchen', they recommend using the outside of your fridge as storage space. Try placing magnetic strips on the lids of tiny jars filled with spices and sticking them on the side of your refrigerator. This can serve as a very handy spice rack that saves you an extra shelf that would have been used for spices. You can also try sticking magnetic racks to the side of your fridge. For any DIY enthusiasts out there, you can easily repurpose regular racks by super gluing magnets to one side and attaching them to a magnetic strip.
Make use of your ceiling
Another helpful tip is to use the empty space above your head to hang pots and pans. A hanging rack attached to the ceiling is a perfect place to store larger pots and pans that would take up too much space on shelves and in cabinets. They're also a perfect way to show off that matching cookware set you bought.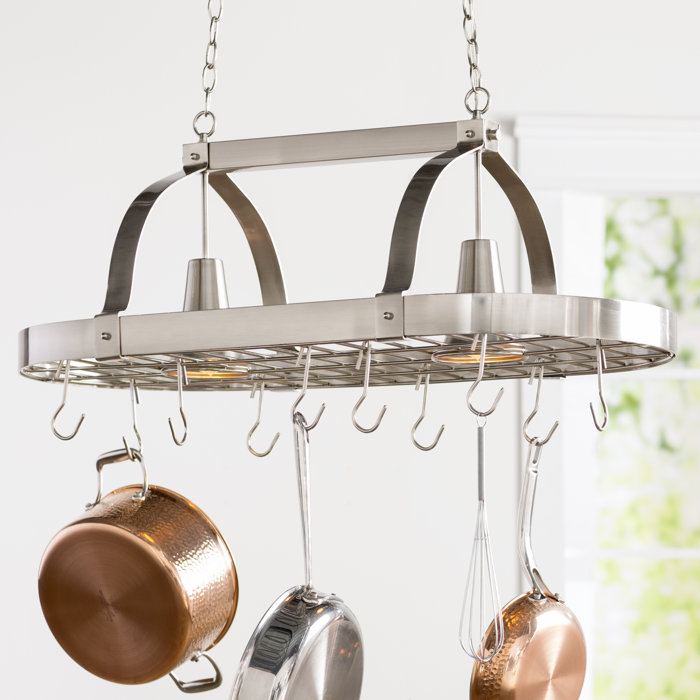 The many uses of rolling carts
Rolling kitchen carts can serve multiple purposes. They work as an extended storage piece, they can be used as an additional counter, and they're perfect for serving food and drinks when entertaining guests. The perfect thing about kitchen carts is that they come in many sizes, so getting a narrow rolling cart can also work if you're short on space. If you need more room while you cook, you simply roll it out of the kitchen.
Install mug hooks
Mugs and teacups are used every day which is why they should be stored in a way that makes them easy to get to. Installing mug hooks under your shelf or cabinet is a great way to save on space. Hanging mugs by their handles is a simple solution that ensures your mugs don't take up too much shelf space, especially since they don't really stack well. This set up also makes them more accessible for avid coffee and tea drinkers.
Sinks as counter space
Having enough counter space is always a challenge, more so with a small kitchen. Architectural Digest suggests getting a cutting board that fits over the sink, creating extra space for chopping. Many of them even have built-in colanders that make food prep even more convenient. It is simple hacks like this that can make life a lot easier.
I hope all these tips help you in case you are planning a kitchen makeover, I am going to use some of them for sure!
Thanks for stopping by!
Hugs,
Pili
Do you love DIY, recycling, home decor, furniture transformation and all kind of crafts? Then we have the same passion! I would love to share all my crazy ideas and projects with you so I would love if you SUBSCRIBE for my post e-mails.
I also share interesting content on Facebook and other social media, and I would love to hear from you! Not following me yet? Don't be shy and stop by to say hello. Follow me on FACEBOOK, PINTEREST, INSTAGRAM, TWITTER, +GOOGLE.
Linking up to these parties
Any content on this website is created for inspiration purposes only. Creating with my suggested methods, products used and tools fail under your own risk. Please ensure you are following proper guidelines with anything used, and you receive professional guidance if you don't know how to do something. For more details you can read my complete disclosure