Hi friends! I am so happy to bring you this month for our Thrift Store Challenge a rustic wooden tray makeover!
Before showing what I did let me remind you what this challenge is about; a group of ladies team up to bring you our thrift store, second hand or free finds upcycles. This is really fun because we want to show you that you don't need to go shopping in expensive stores to have unique pieces of home decor because most of the time, with only a bit of love, you can buy something really cheap and turn it into a special piece for our homes.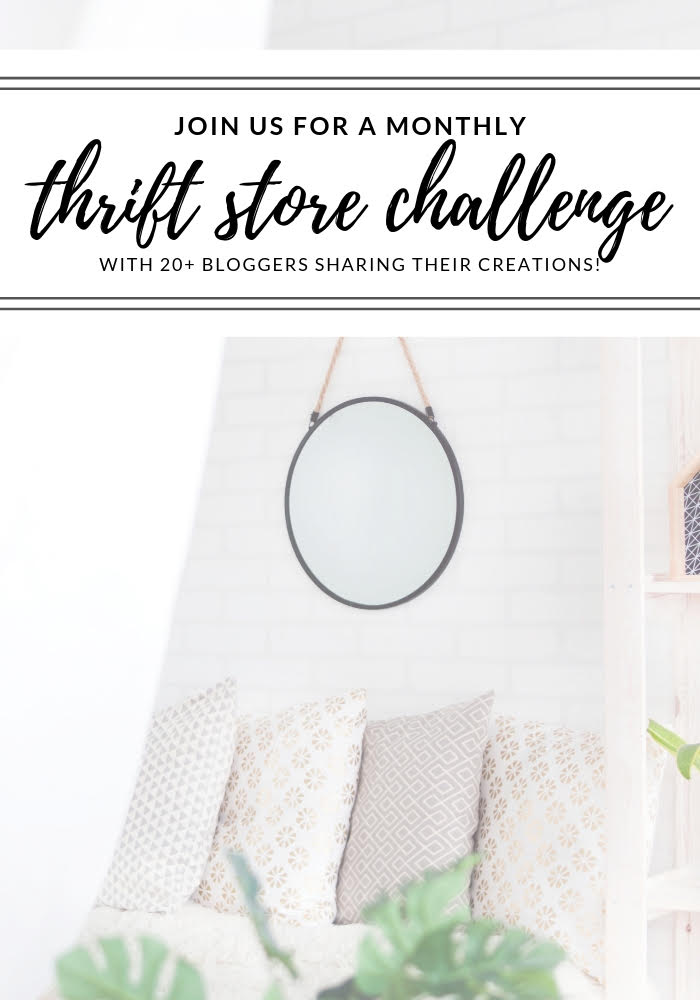 The Rules:
Upcycle an item(s) from a thrift store, resale store, or garage sale into a new piece of decor.
There's no monthly theme.
There's no budget to stick to.
Meet the Hosts
Angela | Simply Beautiful By Angela – Angie | Grandma Creates – Meredith | Southbound Blog – Amanda | Domestically Creative – Molly | Just a Little Creativity – Jenny | Cookies Coffee and Crafts – Michelle | Michelle James Designs – Marie | DIY Adulation – Pili | My Sweet Things – Gail | Purple Hues and Me – Denise| My Thrifty House – Emy | Semigloss Design – Michelle | Our Crafty Mom – Lynne | My Family Thyme – Chas | Chas' Crazy Creations – Kathleen | Our Hopeful Home
Make sure you follow our board on Pinterest for more upcycled decor inspiration!
This time I am not using a free find like last month's shabby kitchen rack… no, this month I am using a rustic wooden tray I bought in a flea market for just a few euros.
It wasn't in a bad shape, it only needed a facelift and I knew what I was going to do. I would do it in a blink of eyes and it would be ready to sell.
Ha! That's what I though.
Here you have the innocent rustic wooden tray.
As you can see nothing difficult to fix, at least that's what I thought.
I wanted to make it a bit modern just for a change. You might have seen from my other posts "modern" is not really my style but once in a while I like to do it.
And it was that time. I only had to paint the wood using my DIY chalk paint.
Once the paint dried I used some white glue mixed with water and applied it with a brush to the base of the tray, as my plan was to use wrapping paper to decoupage it. I've done it millions of times even on furniture, like this decoupaged bednight table
But don't ask me why this time the paper, the tray, or me didn't want to cooperate and I ended up with a huge mess of wrinkles and air bubbles.
I teared off all the paper and was tempted to throw the tray out of the window, I promise!
It took the life of me to get rid of all the paper still stuck on the tray and I was so fed up with it that it sat hidden and forgotten for more than a year. Thankfully it survived my last move!
Then one day I woke up feeling brave so when I saw the tray I thought it would be the perfect day to finish it.
Sorry I don't have any pictures from the process because I wan't sure I could succeed but I will explain what I did.
I painted everything in an off-white color using again my homemade chalk paint. Then I used a brownish color to paint a star and glued some twine around the handles.
Voilà!
Much better that the first "modern" idea.
Now I can say it is really a rustic wooden tray.
It found a new home really fast and I know the owner loves it.
I hope you liked it as much as I do and remember, sharing is caring!
And now for more thrifty goodness!
Check out what my fellow upcyclers created below!
Do you love DIY, recycling, home decor, furniture transformation and all kind of crafts? Then we have the same passion! I would love to share all my crazy ideas and projects with you so I would love if you
SUBSCRIBE for my post
e-mails. I also share interesting content on Facebook and other social media, and I would love to hear from you! Not following me yet? Don't be shy and stop by to say hello. Follow me on
FACEBOOK
,
PINTEREST
,
INSTAGRAM
,
TWITTER
,
+GOOGLE
. Linking up to these
parties
Any content on this website is created for inspiration purposes only. Creating with my suggested methods, products used and tools fail under your own risk. Please ensure you are following proper guidelines with anything used, and you receive professional guidance if you don't know how to do something. For more details you can read my complete disclosure