Hey friends!
I had to take a break but here I am again, welcome to the Thrift Store Challenge!! Don't you remember what it is? No problem, let me explain it. A group of bloggers teamed up to show you what we do with thrift stores, flea markets, second-hand shops or even free finds. You will be amazed!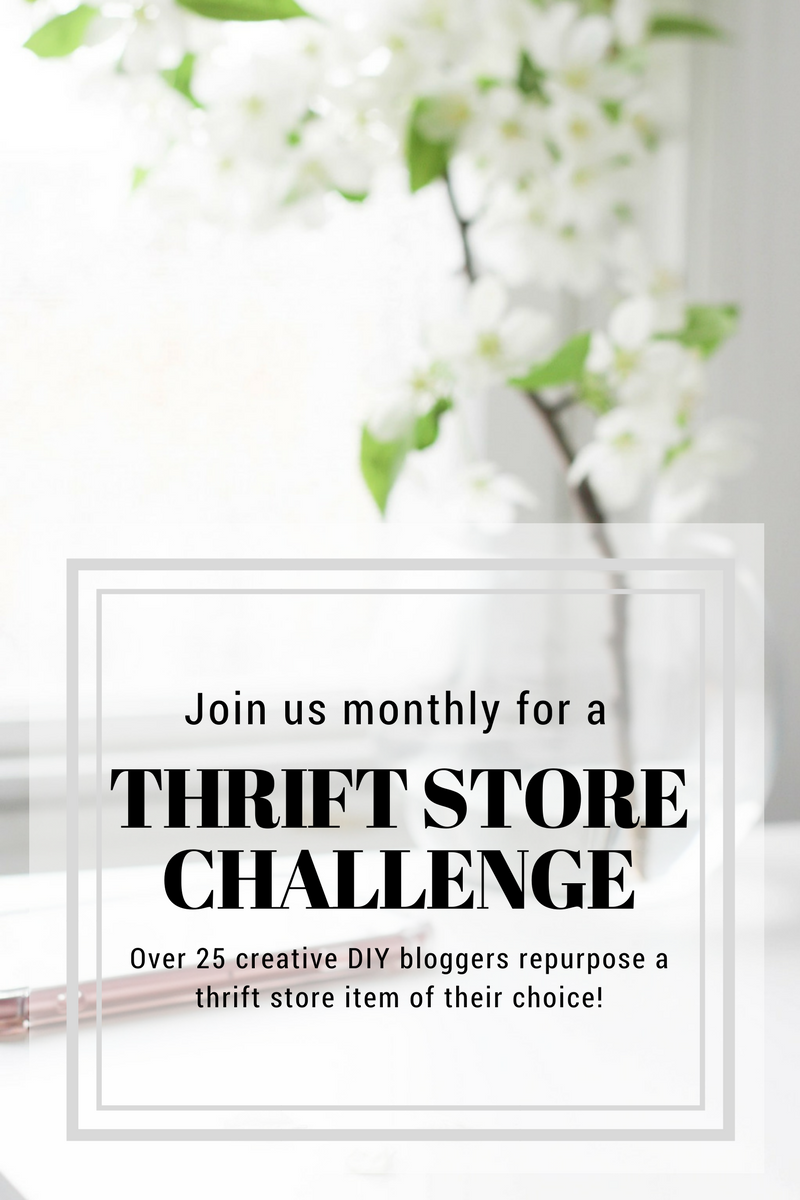 The Rules:
Upcycle an item(s) from a thrift store, resale store, or garage sale into a new piece of decor.
There's no monthly theme.
There's no budget to stick to.
Meet the Hosts
Make sure you follow our board on Pinterest for more upcycled decor inspiration!
Like with many of the challenges my stuff were free finds my hubby brought home. It took me a while to bring him to my world of dumpster diving but now he has a good eye and sometimes surprises me with things like this ornate headboard that I madeover into a vintage bench.
Do you want to see what he brought home?
Look at these two beauties
They had the same shape but different color so it was obvious I had to do something to unify the look.
Living in an island, being in summer and after a phase of painting almost everything in a neutral color, I needed some color.
My plan was not keeping them but selling them, and I could imagine both in a rustic home in front of the sea, so a clear idea came into my mind. I was going to make boho style chairs.
Two Different Ways To Get a Boho Look With Paint
Boho style for me means a free and easy, casual style so painting to get that look was a no-brainer.
First I decided the colors I wanted the chairs to have. I chose some leftover paint, in fact, the paint I like less but that I need to use because as you know I don't like to throw things away.
Then I used to painters tape to protect the fibers of the chair. On a side note, I am not a huge fan of this type of material but the kids and I went once to see how an artisan was cording a chair and it was amazing. His skills twisting the fibers, how he was able to do different patterns on the chair depending on the way he was waving it and the amount of hours needed to make only one chair made me think that even it is not my cup of tea I would try to save the ones that were not damaged, like my two chairs.
Now, do you remember I said two different ways to get a boho look with paint?
This is the first one.
I was using three different brushes for the three different colors. I just randomly painted different sides with different colors to cover every part of the chair.
Once it was all painted, I used the dry brush technique to make some layers of different colors. As the first layer was not totally dry on some areas, when I used a different color on top it blended together giving another color, like the greenish you can see below -you know, blue and yellow make green- 😉
Now for the second way to get that boho look.
I started painting the whole chair red, just one coat.
Then I added randomly the other two colors. I was using cheap brushes because I was not looking for a perfect and smooth finish but the opposite.
I kept adding colors over the red until I got the look I wanted.
The result is almost the same and when the two chairs are together you can't say they have been painted using different methods.
Do you see what I mean?
I love the colors and how rustic they look.
Don't they seem perfect for a front beach porch?
Love the red showing through.
Another good thing this way of painting has is that you don't need to sand anything to make the different colors show.
Last shot, I promise! I love this beachy look and the bright colors, it makes me feel so cheerful. Oh summer and heat, I love you so much. Sorry for you guys who love fall and winter, I can't stand gray days…
I hope you enjoyed this little step-by-step tutorial to get that boho look, so if you want to keep it as reference you can Pin the image below.
---
And now for more thrifty goodness!
Check out what my fellow upcyclers created below!
GuardarGuardar
GuardarGuardar
GuardarGuardar
GuardarGuardar