Hi friends!!
Let's welcome Spring with a new Thrift Store Challenge! I teamed with some talented bloggers to bring you each month different ideas of repurposed items from a thrift store, flea market or similar.
Last month I shared my Valentine's paper heart pouch and this month I will be sharing how two items from the flea market are playing a great role in our remodeled kitchen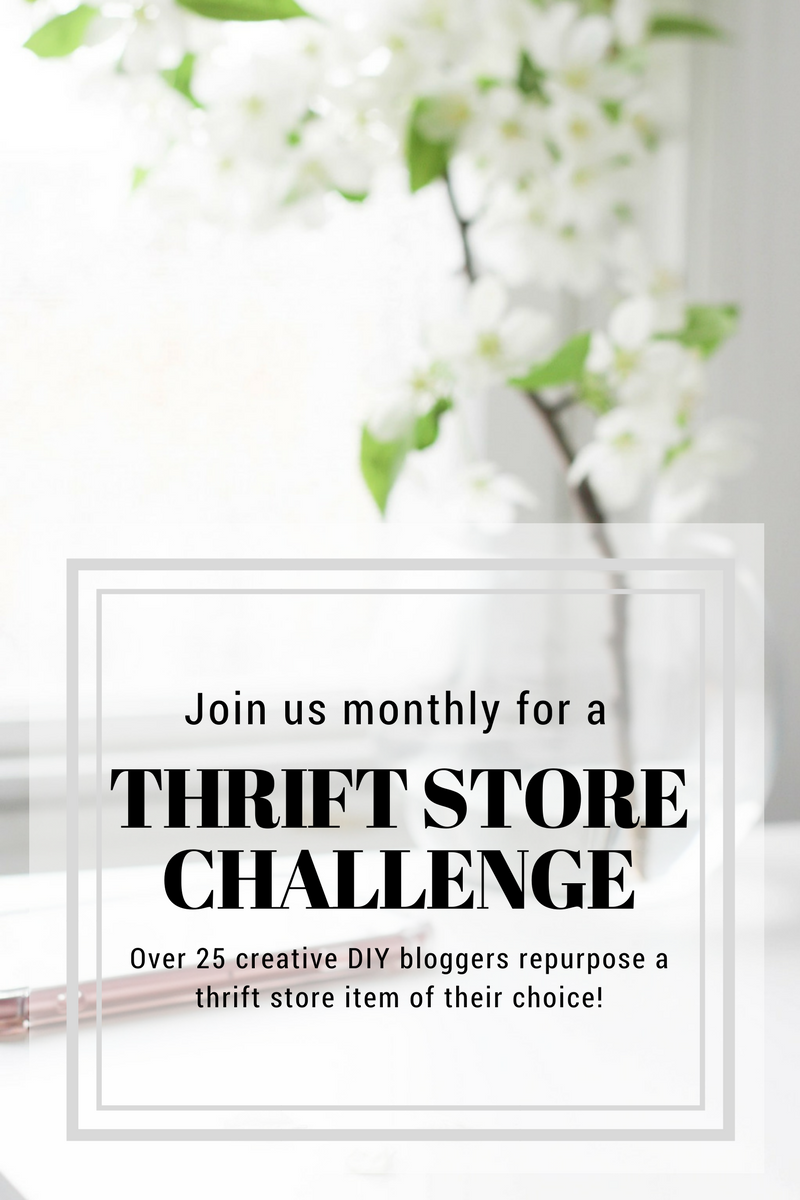 The Rules:
Upcycle an item(s) from a thrift store, resale store, or garage sale into a new piece of decor.
There's no monthly theme.
There's no budget to stick to.
Meet the Hosts
Amanda | Domestically Creative
Angela | Simply Beautiful by Angela – Michelle | Michelle James Designs
Molly | Just a Little Creativity – Victoria | Dazzle While Frazzled
Marie | The Inspiration Vault – Marie | DIY Adulation
Lynne | My Family Thyme – Gail | Purple Hues and Me
Jennifer | Cookies Coffee and Crafts – Ann | Duct Tape and Denim
Michelle | Our Crafty Mom – Debra | Shoppe No. 5
Denise | My Thrifty House – Florence | Vintage Southern Picks
Deborah | Salvage Sister & Mister – Yami | The Latina Next Door
Pili | My Sweet Things – Kathleen | Our Hopeful Home
Karen | Dragonfly & Lily Pads

Make sure you follow our board on Pinterest for more upcycled decor inspiration!
So here I come 🙂
I am a declared fan of thrift shopping. No matter if it's a flea market, thrift shop, dumpster diving… well, thinking about it dumpster diving is my favorite because it means free stuff!
By the way, this post may contain affiliate links for your convenience, you can read my full disclosure here.
I've had two Trofast Ikea storage boxes for about three years without any use. I got them for free buying some stuff at a flea market, and because they are yellow they kept buried in a closet.
Then one day we moved to another house, and the new kitchen was empty… and by empty, I mean EMPTY! We had to do something about it, and after explaining my idea to my husband and he saying the idea was not good, I did the best thing I could do. Nothing, not talking about the kitchen for about 3-4 days, but measuring and sketching while he wasn't there.
Here you can see the kitchen when we moved in. That's empty for me.
By that time I was working on my daughters' room too, so I think the hubby thought I was busy building things for them, but I was secretly making things for the kitchen. No need to argue, or explaining how I want it to be, just being under the radar.
If you want, you can see the full kitchen makeover and how it looks now.
Back to the kitchen, after I added a small cabinet and a faux counter top I still needed a place to hold all my kitchen towels and cleaning rags. You know I love to repurpose as much as I can and not to spend any money when I can do it for free, right?
That meant going to the wood pile and took a piece of flooring I had found years ago.
I made some cuts and got 6 pieces, and I still had some flooring left for the next project.
Then I glued them in pairs and added some clamps. These clamps were from my father in law, imagine how old are they!
I let them dry for almost 24 hours, and then drilled some pilot holes.
Here you can see the three of them.
You have guessed what I am doing, right?
It was time to screw them under my faux counter top.
Here's another show of the middle one, which is double.
Ta-da!! Please, drum roll and welcome my…
Floating under counter storage boxes
They are hidden under the counter, but we pull them out when we need something.
If you are wondering why they are folded like that, I recommend you to read an amazing book called The Life-Changing Magic of Tidying Up by Marie Kondo.
A few days later I added a piece of the same contact paper I used for the counter, and I am preparing a tutorial about the rolling trash cart too.
I like a lot how the under counter storage boxes look and how useful they are. Even the hubby is happy how the kitchen turned out! If you want to see it, here's the full kitchen makeover on a budget.
If you like it too, don't forget to Pin It. Remember, sharing is caring 😉
Thanks for stopping by!
Hugs,
Pili
---
And now for more thrifty goodness!
Check out what my fellow upcyclers created below!
Do you love DIY, recycling, home decor, furniture transformation and all kind of crafts? Then we have the same passion! I would love to share all my crazy ideas and projects with you so I would love if you SUBSCRIBE for my post e-mails.
I also share interesting content on Facebook and other social media, and I would love to hear from you! Not following me yet? Don't be shy and stop by to say hello. Follow me on FACEBOOK, PINTEREST, INSTAGRAM, TWITTER, +GOOGLE.
Linking up to these parties
Any content on this website is created for inspiration purposes only. Creating with my suggested methods, products used and tools fail under your own risk. Please ensure you are following proper guidelines with anything used, and you receive professional guidance if you don't know how to do something. For more details you can read my complete disclosure