Hey friends!
Time really seems to fly and here we are again with another Thrift Store Challenge post! Yay!
Want me to remember what is this about? Sure. A group of ladies are going to show what we do with things we get from a thrift store, but a curbside found can be good as well… free is always welcome!
You can see other projects like my rustic wood tray, and old door repurposed and many more.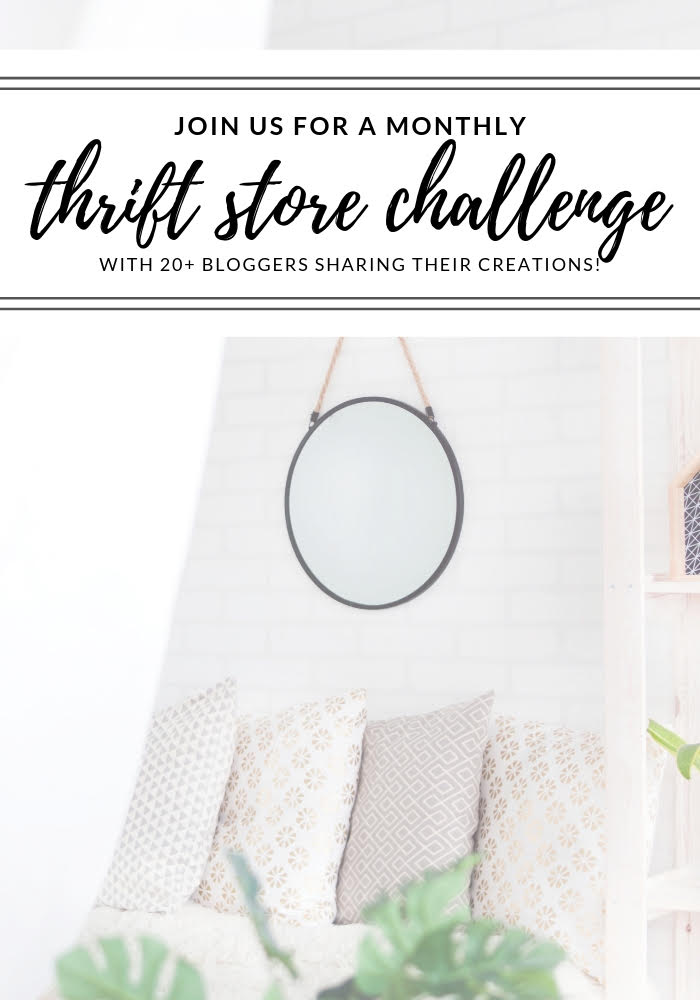 The Rules:
Upcycle an item(s) from a thrift store, resale store, or garage sale into a new piece of decor.
There's no monthly theme.
There's no budget to stick to.
Meet the Hosts
Angela | Simply Beautiful By Angela – Gail | Purple Hues and Me – Carmen | Living Letter Home – Chas | Chas' Crazy Creations – Jenny | Cookies Coffee and Crafts – Pili | My Sweet Things – Kathleen | Our Hopeful Home – Marie | DIY Adulation – Beverly | Across the Blvd – Michelle | Michelle James Designs – Molly | Just a Little Creativity
Make sure you follow our board on Pinterest for more upcycled decor inspiration!
First of all I need to make something clear. I am not always fast or easily inspired.
This post will be today's example. Look at the shutters below.

I can't remember exactly when and where I found them but they survived two moves so it means at least four years ago.
From the picture it seems there is only one but in fact it is a double shutter and I was lucky to find two.
Since the moment I found them I knew what I wanted to use them for. The problem was I didn't have at that time all the tools I would need so it waited for a loooong time.
Shutters are really cool and you can make lots of different things with them. In fact you can see many more ideas on my upcycled shutters Pinterest board.
I wanted to build something like a sideboard, but then I thought that shutters look pretty no matter what side you are looking them and the idea of a outdoor bar made out of shutters came into my mind.
That would be!
How to build an outdoor bar made out of shutters.
The first thing was to get from my scrap wood pile some piece of wood I could use to make a base for the bar.
Sorry, I forgot to tell you but you may have seen both shutters had hinges. I removed all from one side but left the others. The remaining ones were screwed on the other shutter so I ended up with an estructure with a "u" shape.
I turned it upside down and cut my scrap wood piece to size. Then I drilled some pilot holes to attach it to the shutters.
Here's the basic body. At this moment it was flat on the floor so I needed to raise it up a bit. Again my scrap wood pile was the place to go and I screw and glued to the bottom four little pieces of wood to act as feet.
I removed the latches it had and it was time to paint.
If I could give you and advice would be to invest on a paint sprayer. Believe me, you don't want to give two coats of paint x 8 sides plus the bottom!
I have my beloved paint sprayer and it helps me so much with my painting. That thing will be painted on a blink of eyes!
But if you feel brave and want to hand paint it then I recommend you to use the homemade DIY chalk paint.
I distressed it to give a worn look and then I drilled some holes on the side to put those things that will hold a shelf.
The last thing to do was the top. I wanted a rustic look and as I had some pallet wood around here I cut a few pieces to size.
I sanded them well and then stained them in wengue. I used a little piece to screw all the slats to.
I attached the top with some screws and applied two coats of barnish to make it easier to clean.
And it was done!
I built it thinking about selling it but then seeing it I thought that I could keep it…
While I was taking pictures of it I couldn't help thinking of Shakespeare and his dilema… to be or not to be. Mine was: to sell or not to sell…
It was the perfect addition to our little covered terrace upstairs and I could move it when we have parties to use it as an outdoor bar which was the plan.
On the other hand I had already built something for that same spot. Where I was going to move it?
My hubby was abroad so he wasn't part of the decision. I was in love with it!
I asked my daughters, should be keep it and sell the other? Or the other way around?
Of course one said sell it and the other keep it. Thanks girls.
It had more capacity than the actual one. It could hold games, drinks, blankets, whatever we would need for a party.
I decided I would list it and if it sell within two days it will be gone, if not I would keep it and sell the other. Would be anyone interested in buying an outdoor bar made out of shutters?
I client of mine saw it and said she would love to come to see it but she was sure she will like it. She had already bought my romantic bench and some other things.
From the pictures you can say it's nice, but it was really beautiful in real life so when she came she took it.
I helped her load it into her car (this beast was heavy!) and promised me to send me pictures of it on its new place.
So as she promised, here it is in her coastal home.
I can't be happier that she will enjoy it. Doesn't it look really nice in that spot? It seems it was meant for it!
Thank you so much for following my adventures and congratulations if you managed to get to the end, it was a long post!
If you liked it I'd love you share it, you can Pin It for later or inspire others to upcycle their own shutters.
Thanks a lot!
And now for more thrifty goodness!
Check out what my fellow upcyclers created below!